Biodiversity coffee seminar. Evelyne Chavent Coral Gardeners
Evelyne Chavent
Start &nbsp

Thursday 08 Apr 2021 10:00am

Finish

Thursday 08 Apr 2021 11:00am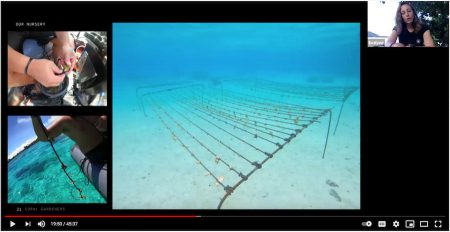 Evelyne is Head of reef restoration and science for Coral Gardeners, and NGO established in April 2017, in Mo'orea, French Polynesia by Titouan Berniclot and his surfer and fishermen friends. By seeing the degradation of coral reefs in recent years, we decided to take action. Young and motivated, we launched a crowdfunding campaign in 2017 to start the project.
We consider that 75% of the world's coral reefs suffer threats from pollution, overfishing and human activities or global warming. Coral reefs coverage has already declined by 30-50% since the 1980s (M.Gaskill). Without proper action, all coral reefs are at risk of disappearing by the end of the century with disastrous consequences for marine life.
Coral Gardeners was created to save the coral reefs of Mo'orea, French Polynesia and the world.We are raising awareness locally and around the world of the disappearance of coral reefs, we are restoring damaged areas of the reef and we work with scientists to improve our coral restoration techniques. We switched from "coral of opportunity" to "Super corals" technique. Since 2017, we have planted more than 15000 corals back on the reef and reached out to millions of people around the world, but we won't stop there. We plan to plant a million corals in 30 different places around the world in 5 years and for that we will need the help of many people!
Tweet link opens new window
Tweet