Prescribing nature for human health.
Kathy Willis CBE
Start &nbsp

Friday 18 Nov 2022 4:15pm

Finish

Friday 18 Nov 2022 5:30pm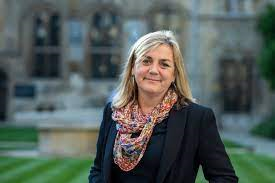 The past few decades have been a large global increase in the incidence of non- communicable diseases (NCDs), including cardiovascular, respiratory, and mental illnesses. These conditions now account for more than 50% of annual deaths worldwide (WHO 2021: https://www.who.int/news-room/fact-sheets/detail/noncommunicable-diseases ).
Alongside the rise in these NCDs, there has also been a large emerging scientific evidence-base to demonstrate that communities and individuals who live or work closer to green spaces in cities, tend to have much lower incidences of these diseases, even when considering other socio-economic and cultural factors. To understand why this is the case, what kinds of nature are needed, and the length and type of interaction, has led to a whole new research field focused on examining which interactions with our senses (sight, smell, sound, and touch) lead to positive health outcomes and why.
This talk will present an overview of some of these studies, examining evidence for the interactions with nature that bring about hormonal responses and changes to nervous and immune systems that induce physiological and psychological calming, pain relief, alleviation of tiredness, and regulation of natural killer cell activity (which play a major role in the host-rejection of virally infected cells and cancer tumours). It will then go on to ask if we are now at a point where we can actually start to prescribe a dose of nature as a treatment, and if so, what aspect of nature, at what dosage, and how should it be administered? Finally, it will discuss the few examples where the efficacy of prescribing nature compared to more traditional biochemical-based drugs has been examined and ask what is the future scope of nature-based medicine?
Speaker biography:
Kathy Willis CBE is Professor of Biodiversity in the department of Biology and the Principal of St Edmund Hall, University of Oxford. She is also a Crossbench Peer in the House of Lords. Previous roles include Director of Science at the Royal Botanic Gardens, Kew, and a member of the UK Government's Natural Capital Committee. Her research falls into two categories. First, she aims to understand how plant biodiversity responds, over time and space, from years to millions of years and from local to global scales, to climate change and other environmental drivers. Second, she researches the flow and extent of critical ecosystem services that we obtain from plant biodiversity, such as the drawn-down of atmospheric CO2, flood risk protection, clean water, soil erosion protection, and habitats important for enhancing physical and mental well-being. She heads the Oxford Long-term Ecology group in the department of Biology and is also a founding member of the OSE spinout company NatCap Research.
This in-person event is followed by a drinks reception and everyone is welcome
Please select your ticket above to register to attend in-person or virtually.
Tweet link opens new window
Tweet