The Yawanawá Amazonian Indigenous People: Socio-environmental experiences of ecology, climate, health and territory
Various
Start &nbsp

Tuesday 24 Oct 2023 5:15pm

Finish

Tuesday 24 Oct 2023 6:15pm

Venue

Diversity room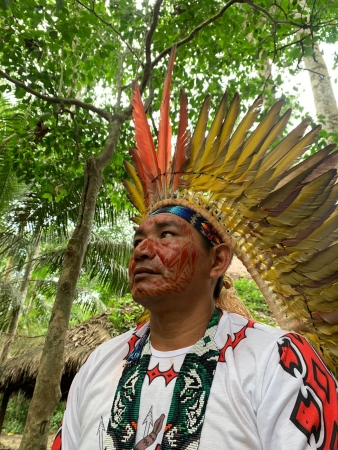 Since ancient times, the Yawanawá have inhabited the headwaters of the Rio Gregório in the Western Amazon in Brazil. Their current population is approximately 1200 people in 12 villages. Their traditional culture and practices were decimated by the impacts of colonization since the first contact with non-indigenous people around the early 20th century (e.g., rubber tappers and missionaries). Additionally, COVID-19 caused the death of significant numbers of Indigenous people in the Amazon, many of them elders, raising fears of irreparable damage to Indigenous ancestral and sacred knowledge. Additionally, "development" projects, natural resource extractivism and politics ignore indigenous rights and impact their realities.
In this Seminar the Yawanawá will share how their traditional practices and sacred knowledge including local ecology such as native medicinal plants have been key in overcoming challenges like COVID-19, but how climate change also poses a threat to these plants and practices. For the Yawanawá traditional practices are directly related to the preservation of culture and are inseparable from the right to the territory, their relationship with nature, and sacred knowledge. In their experience, the health of the community is intimately connected to the health of the land and Earth. Today, the link between many humans & nature is greatly weakened. Indigenous practices can help to re-locate human beings in larger social environments, highlighting the ecological value behind these knowledges and cultures.
Nani Kateyuve
Pai ("father") Nani as he is often called, is the principal Professor of the Yawanawá People. He is 60 years old and a healer of his people, who carries ancient knowledge passed along from generations. He is actively working to keep the Yawanawá's traditions alive, planting different species of trees, harvesting, cultivating medicinal plants, and teaching the Yawanawá children. Pai Nani is a protector of the authenticity of the Yawanawá culture, focusing especially on the language, the prayers, the songs and in transmitting a very deep understanding of the Yawanawá ancestrality.
Yawatume
Yawatume is one of Nani's daughters, steeped in rich cultural heritage from her birth. A vital aspect of Yawatume's work is her commitment to the preservation of the Yawanawá language. She has 3 children and through her interactions and teachings, she safeguards that the language is passed down to the younger generation, ensuring its continuity. But beyond her many roles, painting emerges as Yawatume's predominant talent. She adeptly translates the Yawanawá'ss kênes – the sacred visions and part of the Yawanawá's identity – into intricate body and textile artworks, weaving a tapestry of tradition, belief, and history.
Wiahu
Wiahu is an expert and talented keeper of medicinal plants from the forest, wisdom that he received from his father Jorge Yawanawá a healer recognised for knowing different traditional medicines. Wiahu has deep knowledge of the Yawanawá language and is a keeper of the ancestrality and culture of his people especially within the Yawanawá spirituality.
The Yawanawá will be selling some traditional indigenous artisanal goods during the reception, if you are potentially interested in purchasing anything please note that it will be cash only transactions
Tweet link opens new window
Tweet