What will be the impact of the (proposed) new GCSE in Natural History and how can academics help?
Mary Colwell
Start &nbsp

Wednesday 27 Oct 2021 10:00pm

Finish

Wednesday 27 Oct 2021 11:00pm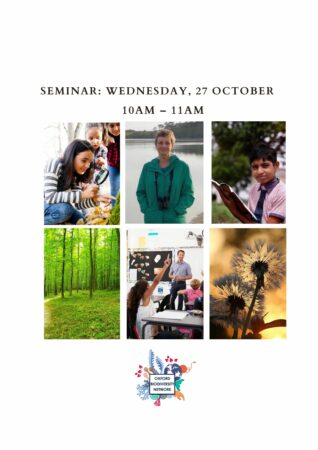 Author & journalist Mary Colwell has pushed for a GCSE in Natural History for 10 years. Now It looks as if it's going to happen, & hopefully teaching will start in September 2023.
Mary will be joining us to explore the potential of this GCSE, & how it will be challenge to our siloed education system because it draws on natural sciences, history, anthropology, economics & much more. This could be a game changer for education and for the understanding of biodiversity by tomorrow's voters.
Can your research be distilled into a resource that will find a niche in a GCSE Natural History classroom in 2023? Join us to discuss this and other ways to get involved.
About Mary:
Mary is an author, producer and campaigner for nature. Her articles have appeared in the Guardian, BBC Wildlife Magazine, The Tablet, Country Life and many other publications. She has made documentaries for the BBC Natural History Unit in both TV and radio, and has published three books: John Muir – the Scotsman Who Saved America's Wild Places in 2014 (Lion Hudson), Curlew Moon in April 2018 (William Collins) and Beak Tooth and Claw (William Collins) due in April 2021.
In 2009 she won a Sony Radio Academy Gold award and in October 2017 she was awarded the Dilys Breese Medal by the BTO for outstanding science communication, the David Bellamy Award in 2018 from the Gamekeepers Association for her conservation work on Curlews and, in 2019, the WWT Marsh Award for Conservation.
Colwell is a noted spokesperson for environmentalism in the United Kingdom and has written articles on the subject the main newspapers. She was listed at number 27 in BBC Wildlife Magazine's Top 50 Most Influential Conservationists in the UK, and has received various awards for her work on promoting environmentalism.
Colwell was one of three recipients of the 2019 Marsh Award from the Wildfowl & Wetlands Trust for her activism around the Curlew including engaging political support from Downing Street (who called the Curlew, "the panda of UK conservation"), and promoting April 21 as World Curlew Day.
Colwell has campaigned with politician Caroline Lucas to have Natural History included as a GCSE exam on the national curriculum, and in May 2020, she told The Daily Telegraph it would be taught in schools by 2022. In October 2020, a final proposal was submitted to the Department for Education.
Tweet link opens new window
Tweet