Priorities for Healthy Ecosystem Restoration in Oxfordshire
Wednesday August 4, 2021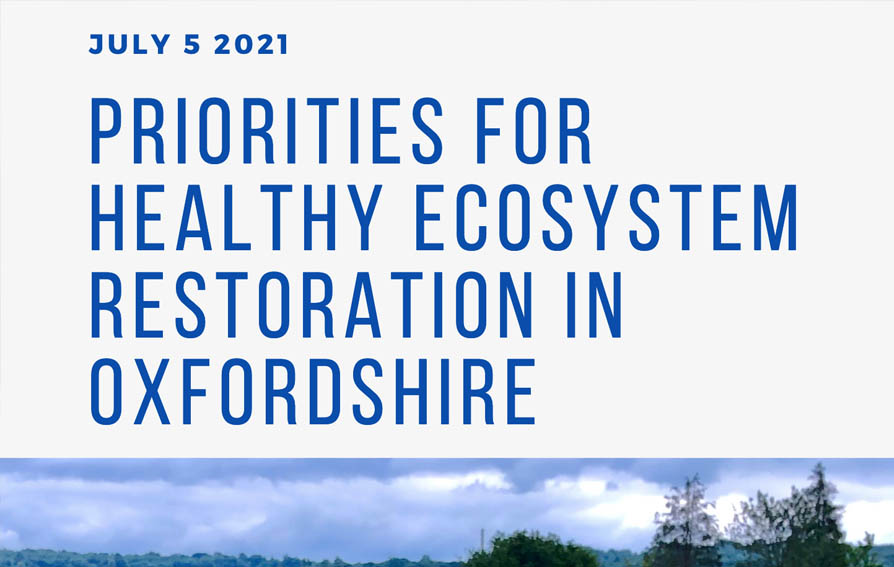 On 5th July 2021, we held an on-line, as well as an in-person workshop to gather insights on setting the goals of HERO for the next three years, and the priorities for the coming year.
Healthy Ecosystem Restoration Oxfordshire (HERO) is a three year programme (in the first instance) supported by the Oxford Martin School, under their new Programme on Biodiversity and Society. HERO will explore how Oxford University can play a role in efforts to restore ecosystems to health in Oxfordshire, by bringing the University's strengths in academic knowledge, research capacity and convening power to support ongoing and planned nature recovery activities by a range of local partners and stakeholders, including land-owners and farmers.
With its active network of nature recovery groups, Oxfordshire presents a compelling opportunity to test and showcase a portfolio of different ecosystem restoration strategies, to become a model county for nature recovery. HERO aims to build a community of practice between the University and local practitioners, and will also form a resource for the University and its constituent Colleges within broader institutional sustainability goals.
Nature recovery, nature-based solutions and ecosystem restoration have never been so prominent in the political agenda, presenting an extraordinary window of opportunity to channel public and private funding and enthusiasm towards restoring ecosystems across Oxfordshire. There is an urgent need to form a strategy, set goals and secure funding, yet we also recognise the importance of gaining a thorough understanding of the ecological and socio-economic implications of nature recovery activities, and developing reliable and practical monitoring and evaluation methodologies.
With this in mind, we aimed to answer the following questions during the workshop:
What are the key challenges to nature recovery across Oxfordshire?
How can the University work alongside local partners with the aim of making Oxfordshire a model county for nature recovery?
What are the priorities where HERO can contribute on a three-year timescale, and what should be the priority for the first year?
Tweet link opens new window
Tweet